This blog was written by Anyone's Child member, Raychel. You can read her story here.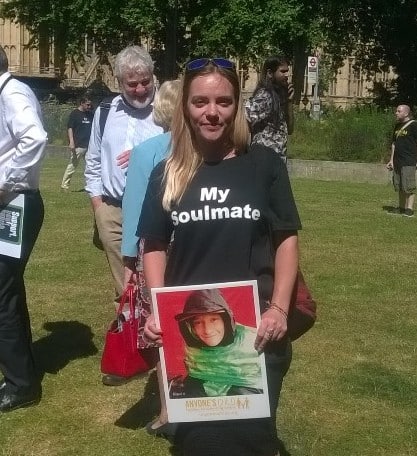 "No one is actually dead until the ripples they cause in the world die away" – Terry Pratchett
In early 2018 I had arrived back in the UK after six months of living in Manila where the war on drugs has already claimed the lives of thousands of Filipinos.
Only three months previously I had received the news I had always feared, my former partner Kevin had died from a heroin overdose. Kevin died behind a locked toilet door in a Marks & Spencers store in his hometown of Carmarthen.
I could not speak of Kevin's death in the Philippines, instead I would harbour the grief and pain until I was home.
Finally, I felt safe to speak my truth.
The Anyone's Child website appeared in my frantic google search with details of an upcoming mass Lobby at Westminster. The campaign group were urging people to contact their MP's, to ask them what they intended to do about our failed drug laws. I copied and pasted the template that was provided making some minor adjustments and including my own personal experience of how the war on drugs had impacted my life.
Sending that email to my MP brought me a huge sense of relief, it was the first step I had taken in honouring the decision that I had made to speak out about failing Drug Policies in the UK. It was the first time I was able to be truthful to myself about the extent of my sadness and anger that Kevin's death could have been prevented had our drug laws of been different.
Shortly after sending the email I received a positive response from my MP Ben Lake, he was keen to meet at Westminster on the day of the lobby, offering me a time for the meeting and sincere gratitude for bringing this issue to his attention.
The success of securing a meeting with my MP inspired me to tell Kevin's mother and sister about the event, they decided to get involved too. Between us we had secured meetings with three MP's stretching from the far corners of West Wales to the furthest South of the country.
The three of us plus two of Kevin's friends arranged to meet the group of campaigners travelling from Bristol on the morning of the lobby. There was a strong sense of coming home when we stepped on to the bus, a knowing that we were with the right people, doing the right thing. We were no longer alone in our fight, we were empowered by everyone that surrounded us, all of whom were impacted like we were by the war on drugs.
Having never been to Westminster before I was really nervous but the Anyone's Child organisers were reassuring and supported us throughout the day. Nicky, the then Chief Executive of Transform came with me to meet my MP. I can vividly remember her saying "For Raychel, the worst has already happened". Hearing those words felt like my permission to speak openly and honestly with my MP, my nerves subsided and I spoke my truth.
My MP was very sympathetic to all that I shared with him but most of all thankful for bringing this issue to his awareness in such a personal way. I left Westminster feeling like we had accomplished something far greater than I had imagined.
Later in the Autumn I received an email from my MP, he informed me that Plaid Cymru had made the decision to make the decriminalisation of drugs official party policy. He wanted to thank me for meeting with him, stating it was from our conversation that he formed his decision to vote in favour of decriminalisation.
Since then my relationship with my MP has grown in support of my campaign work for Anyone's Child. In December Ben sponsored me to do a 10 mile walk around Bristol in memory of Kevin where we collectively raised over £3000. Ben has since participated in a cross party meeting earlier this year at Westminster where we discussed drug policy reform at a local level. More recently Ben has offered to support the Anyone's Child event taking place in my hometown later in the year.
If there is one thing I have learnt from contacting my MP, it is that when that inner voice calls, it is ready to be heard, and we must honour it and speak our truth. Your reason for reform is valid and must be shared as it is a part of something much bigger than you can even comprehend at this moment in time.
Our MPs can only work for us, if we are working with them. We owe it to our healing journey from the damage already caused and we owe it to the memory of our loved ones who are no longer here as a result of our failing drug laws.
If you feel inspired to campaign for safer drug laws, please join the Anyone's Child families at our lobby of parliament to end the drug war on June 25 2019. Register here,  or for more information contact info@anyoneschild.org