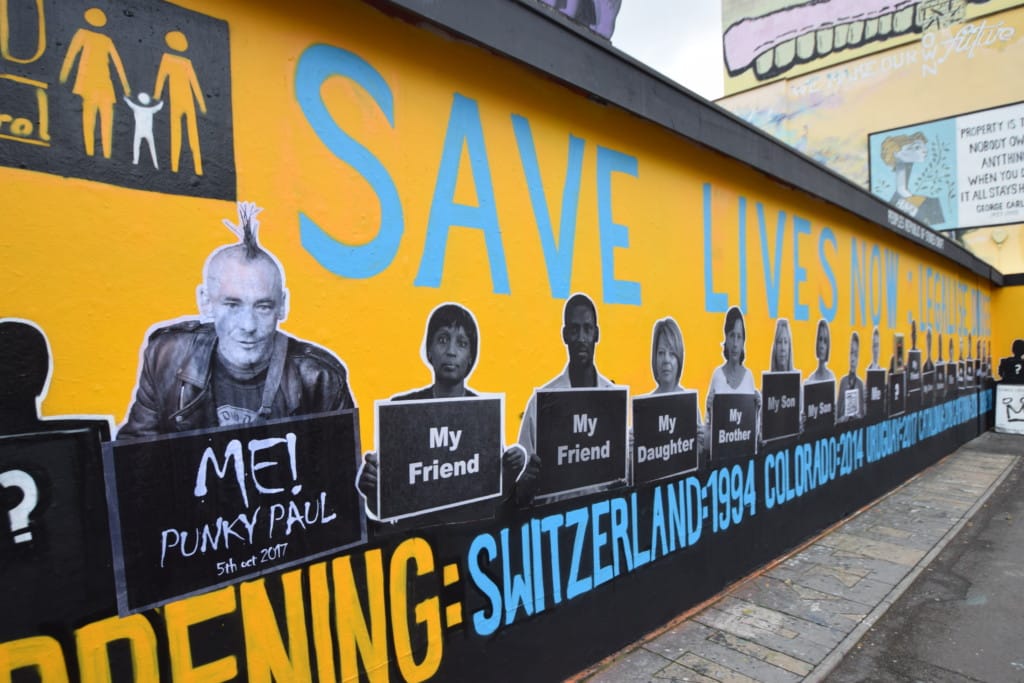 Paul Larner AKA Punky Paul, a homeless man who tragically died from a suspected drug overdose last week is being remembered on a mural that was unveiled a week ago in Stokes Croft. The mural reads: 'Save lives now – legalise drugs'.  Paul now joins 17 images of bereaved people holding up signs representing those we have lost because of bad drug policy: 'my brother', 'my friend', 'my son' and 'me.' All of the families believe that had drugs been legally controlled and regulated these deaths could have been avoided.
Jane Slater, Project Manager of the Anyone's Child Campaign commented:
"It is tragic that just one week after the launch of our mural we have witnessed yet another needless death as a result of our failed drug laws. Paul's death occurred just metres away from our mural that is trying to highlight this catastrophic problem.
Paul died from a suspected spice overdose – a drug that was banned last year as part of the Novel Psychoactive Substances Bill. 'Spice' is a synthetic cannabis product. Since the ban comparatively weaker 'spice' variants have vanished from the market, leaving only those far more potent and toxic than cannabis and even heroin. It is widely associated with dependence, seizures and death. Paul is the latest in a growing list of fatalities from drug overdoses.
Chris Chalkley from the People's Republic of Stokes Croft who co-produced the mural said:
"I have known Paul for more than ten years. He was a perennial presence in the street culture of Stokes Croft, living a chaotic and often messy life. He was always up for serious banter, had a real zest for life and attempted, in his own way to look out for the other members of the street community. Unfortunately, his death from drug overdose does not come as too great a surprise. Addicts in our city play a game of Russian roulette, not knowing the strength or provenance of the drugs they consume. In the past ten years we have buried far too many of our community who have died from overdoses.
When we started working in Stokes Croft ten years ago, we worked with Paul as an exemplar of how we could improve the way we deal with our drug culture. It is sobering that, ten years later, he dies in this manner.
As Einstein said, "Insanity is doing the same thing over and over again and expecting different results." We must find the courage to engage in a different way. Most of the street people and people who work for drug agencies seem to agree that legal regulation is the best viable option for Paul and others like him, it is our duty to make this happen."

The illegal status of spice has made no difference to its availability; vulnerable communities are still able to get hold of the drug, but they now have no idea what is in it.
Anyone's Child believe that cannabis must be urgently legalised to revert the growing market back to what is a relatively safer drug. This would prevent more needless deaths from occurring.
Anyone who knew him can vouch that the world is not a better place for the loss of Punky Paul.
We urgently need a new approach to drugs. We need to move beyond fear, discrimination and punishment, and towards drug laws that are centred around honesty, compassion and health.