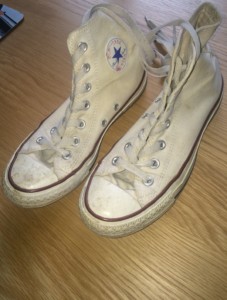 Many of you here will know my story already, but for those of you who don't – I am Martha's mum. I am so very proud to stand here tonight next to the image of my girl.
When I gave birth to Martha at the John Radcliffe Hospital in 1997 she looked at me with one eye open and one eye closed as though she was squaring up to me and saying 'you'll do', I was absolutely entranced by her, as most people who met her were. Being a parent is the best job in the world, our children look into our eyes with such trust and optimism and as parents we project our hopes and dreams back at them.
In two weeks time, it's the third anniversary of 'that' day. The day when the sky froze over and life as I had known it became a barren landscape of broken dreams and unfulfilled potential. I became a single mother without a child – it felt as though my own birth certificate had been wiped blank and I looking at it with disbelief, wondering who I now am.
Martha, who was 15, left my home on a beautiful Saturday morning, she cycled across town, racing past my friends who waved her off as she went – never realising that it would be for the very last time. She was late for her kayaking lesson, but made it with seconds to spare. When her lesson was over, I have no idea why, but Martha swallowed ½ gm of white powder that turned out to be ecstasy that was 91% pure. She was dead within a couple of hours.
Exactly two miles from here, my girl took her very last steps underneath the dreaming spires of Oxford. The city she loved exploring and was proud to call home.
They say that losing a child is the ultimate burglary and that's what it feels like sometimes – as though she's peeking from behind the curtain, hiding from me and in my heart I'm searching for her – waiting to wake up again and realise none of this ever happened.
But I can't spend the rest of my life living within a daydream, I have to remain attached to the reality of 'what is'.
As the days turned to months, the City of Oxford held me up and many of you who are here tonight, played your own part in helping me to start again. Slowly I found my feet and with each step I took without Martha, I felt a newfound determination to make the most of the life I have left.
I spent the next few months searching for answers, I had meetings with drug policy experts, MPs, charities, teachers, police officers – I needed to carefully unravel this subject in order to work out what could be done to stop this from happening.
By chance I found details of Transform Drug Policy in Bristol and Jane Slater who is here tonight answered my phone-call. At that time, I was still in the throes of early bereavement, but there was something within that conversation that sowed the seed of hope I needed. It was then that I knew I had found something that could help give my life purpose again.
Over the next year we carefully put together the Anyone's Child Campaign to shed light on the true cost of these outdated laws. So, on the 14th of July last year, I held hands with a group of families, whose lives have been wrecked by the current laws, and we walked up to the shiny black front door of 10 Downing Street and delivered a petition calling for a review of our drug laws.
The Anyone's Child Campaign is advocating for an evidence-based approach, using the expertise of scientists and health professionals. My dream is for the UK to move to more progressive policies, adopting best-practice from around the world, in order to keep your children safe and in order to save lives.
Throughout the media and within the political arena, our stories are hard to ignore, they cut sharply through the rhetoric that is so entwined within this subject. A couple of weeks ago, you may have heard the news that three 12 year old girls were hospitalised after taking ecstasy pills shaped like teddy-bears – that is not ok. Over the weekend four young men on the Isle of Wight were also hospitalised and one of them is still in a serious condition – I say enough is enough.
It seems that every weekend lately, there's 'yet another' headline – it makes my blood run cold to think that other families may end up like me; living this strange legacy of being a parent without a child.
When Martha's school-bag was returned by the police a few weeks after she died, it contained her shoes – I have brought them with me tonight – this is what prohibition does.
Martha's shoes are a poignant symbol of her absence and with this in mind, I will continue to take the steps around the world that Martha never will. I will keep telling my story, until I am certain that we will no longer be passing the rusty shackles of outdated laws on to future generations.
My primal scream to everyone in this room is don't forget my Martha, she was still here less than 3 years ago and her death was preventable.
Now, I used to think that when it came to the subject of drugs, that we weren't that 'type of family' but, I was being naive and with hindsight, I now realise that we are all that 'type of family'. This is OUR problem and we can all play a part in changing this for the better.
In just under a year The Anyone's Child Campaign has gathered so much momentum and support – it's now recognised internationally as a Campaign that is really making a difference.
You can't underestimate the power of a group of determined people, fighting for a cause. For out of the ashes of our despair – there is always hope.