This blog is authored by Anne-Marie Cockburn, one of the members of the Anyone's Child project.
It's two months after and there's a slight haze as the remnants of the day float around in my head. Did we place a marker in the history books? Well, we'll see, but it certainly felt that way. On 14th July, I went along with a group of families and stood at the threshold of the most famous front door in the country, 10 Downing Street.
We handed in a signed petition to David Cameron asking him to review the UK drug laws. Each of us has a tragic story weighing heavily in our hearts, representing the failings of the current laws. From the loss of our children, the stigma of those with mental health or addiction problems, to the futile imprisonment of a bright and promising student who never got the second chance he should have.
As I cast a sidewards glance at the faces of the other families who've come together for this project – there's a feeling of melancholy in the air, but a silver thread of determination binds us as we ask the PM to use an evidence-based approach and consider other ways in which to deal with this problem. Our t-shirts need no explanation as the words: my two sons, my husband, my daddy, my daughter, my cousin, my brother, my partner – show the world why we've come here today.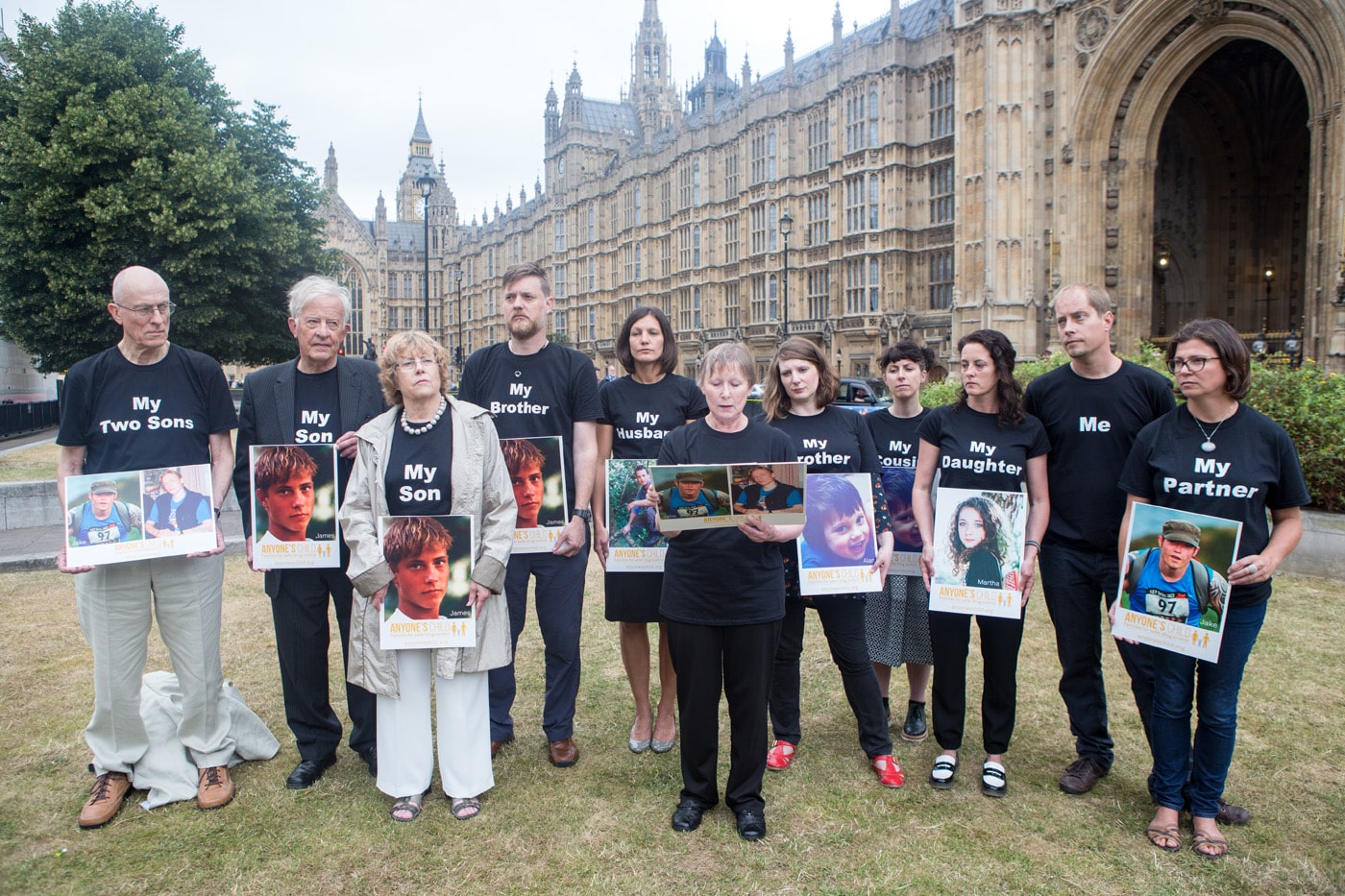 The Anyone's Child: Families for Safer Drug Control, project is supported by Transform Drug Policy Foundation, a charitable think tank, campaigning for an end to the drug war. This new project brings to the fore, the human cost and provides compelling examples of why we need to get this conversation moving and moving fast. We want all drugs to be legally regulated, so what does Legal Regulation actually mean? It means taking drugs out of the hands of criminals and handing responsibility to medical professionals such as doctor or pharmacists. Contrary to what many may believe, this doesn't mean there'd be a free for all, as prohibition has already achieved that for us.
If we look to Portugal, there are 3 overdoses per million citizens, in the UK it's 44.6. That figure alone tells you that they're doing something right. Switzerland are also doing incredibly effective work and showing us that there is another way, by endorsing consumption rooms and eradicating the unnecessary stigma from the dialogue.
After the inquest into my 15 year old daughter's death who died in 2013 of an accidental ecstasy overdose, I wrote to David Cameron and asked to meet. He responded to say that his diary wouldn't allow it and passed my details on to the UK Home Office to reply to me further. Perhaps he couldn't face me as my loss isn't the best reflection of the law he vehemently defends. It's easier for him to hide behind that glossy door and hope the political games he plays defeats me. Martha's death isn't a game – it doesn't get more real than losing your only child.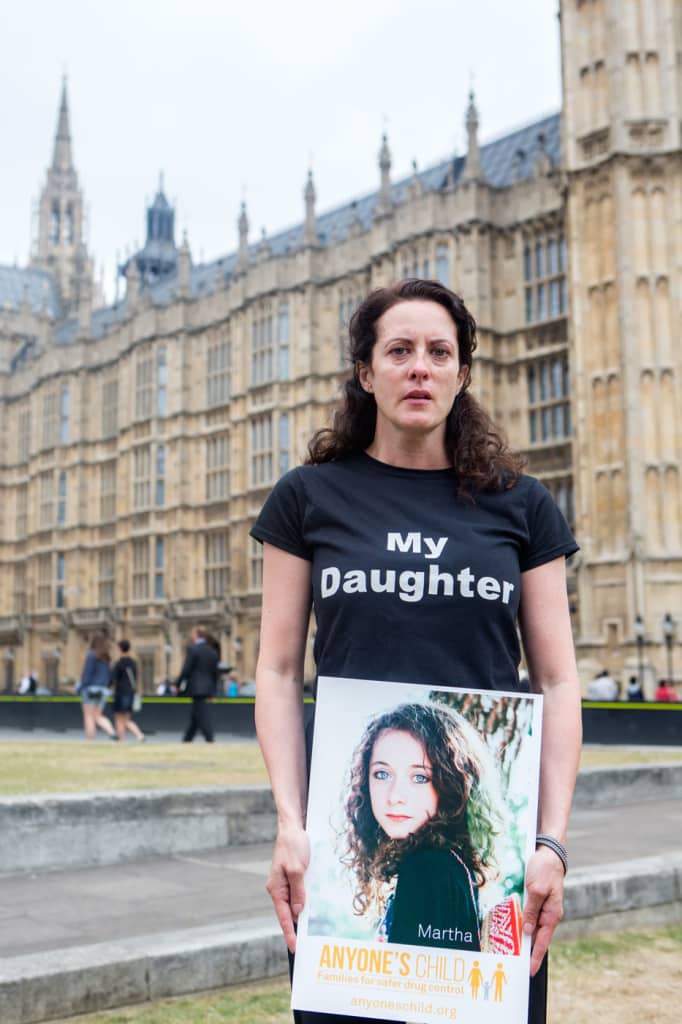 Every morning I wake up to be reminded that this isn't just a bad dream – my girl is gone and I have no choice but to do my best to prevent other families from knowing what it's like to be me. It isn't easy, but I feel duty-bound to keep going and to help cut through all the rhetoric that strangles the progress of this incredibly important conversation.
I'm so bored of the professional prohibitionists who've made lucrative careers out of other people's misery, having had over 40 years to hone their argument and defend a law that in practice only protects criminals. While they put the needle back on the broken down record of their regurgitated arguments, another 50 people in the UK die every week of a drug-related death.
What's the harm in conducting an independent review of UK drug laws using evidence from worldwide experts? While Cameron continues to defend the 1971 Misuse of Drugs Act, which has achieved the exact opposite of what it was supposed to, approximately 13,000 people will die during his term in office. What a sombre legacy for him to be responsible for and what an unnecessary blight to the history books of modern civilization.
In October 2014 a Home Office-commissioned report that Theresa May buried for 4 months, was finally published. It looked at the international evidence on the impact of legalisation on drug use. The report proposed three key recommendations:
Promoting the use of cannabis-based medicines, by removing the barrier to their development and allowing them to be prescribed for a range of conditions.
Piloting a system used in Portugal, where drug use has been decriminalised, which involves "dissuasion commissions" assessing drug users and diverting them from the criminal justice system and into treatment.
Encouraging more long-term heroin addicts to seek treatment involving clinically supervised diamorphine injections.
So regardless of the evidence uncovered in this report, ministers signalled that they would ignore it and Cameron said that decriminalising drugs sends out the wrong message. Well, I say come stand by my 15 year old daughter's grave and tell me that UK drug policy is working – for in death, there is no denying the truth.
Cameron responded to our petition almost immediately giving us an almost identical response to the one I received prior – the hot potato of this discussion isn't something he wants smoldering in his hands, so he throws it elsewhere for someone else to be the scapegoat. But this just makes us more determined – we're a patient bunch and steadily we go continually garnering support from around the world.